Spoilers: Who Is the Black Swan on Pretty Little Liars? Plus: Teen Wolf & True Blood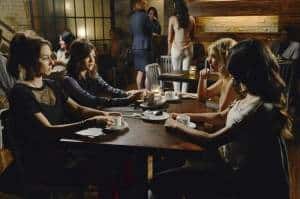 Who is the Black Swan on Pretty Little Liars? What is happening to Lydia on Teen Wolf? Which Veronica Mars alum is joining True Blood? All these questions answered and more spoilers!
Aaand we're back! After a short break where we drowned our sorrows in ice cream while watching season finales, we're finally ready to return to our regular spoiler grind. Now just because most of our favorites are on hiatus, doesn't mean we've run out of spoilers to share with you. It's summer time, baby!
Pretty Little Liars | On June 5, the Liars returned with their third season premiere, and there's already a bunch of new mysteries for the girls to solve. What happened to Emily in the cemetery? Who is this second 'A'? Who killed Maya? And who is the Black Swan?
Well, Troian Bellisario, who plays Spencer, recently revealed to TVOvermind that we'll learn more about the Black Swan soon enough: "Was it a wild goose chase, was it a red herring, is it a decoy, is it the other 'A', is there another 'A'? You will not have to wait too long to find out the answer and I think it will be quite shocking. It is something that was a little bit too close to home for Spencer." Could the Black Swan, in fact, be Melissa? And what about Melissa's still unborn baby? Troian teases, "It will definitely surprise you and it will not be what you expect."
Meanwhile, someone new is coming to Rosewood, and she'll bring us a lot more information on the DiLaurentis family. Vanessa Ray (Suits) will guest-star in the July 17th episode "Crazy" as Cece, an alluring blonde stylist at a trendy boutique. Plus, let's not forget about her mysterious past as Jason's ex-girlfriend and the one who taught Alison all her dirty tricks. Sounds like the Liars will have to watch out for this one, especially since TVLine reports there's a possibility she'll recur in more episodes.
Plus, for more season 3 spoilers, you'll definitely want to check out the latest from our set visit here.
And be sure not to miss the preview and sneak peeks for next week's all-new episode "Blood is the New Black". You can also get a first look at the new character of Nathan, Maya's cousin, from the June 26 episode "Birds of a Feather".
Teen Wolf | Our other favorite series returned this past Sunday, and they've definitely upped the stakes this season with the introduction of Allison's sword-wielding werewolf-killing grandfather. But what I think all of us really want to know is just what's happening to Jackson and Lydia? Creator Jeff Davis let a few details slip to TVLine, "By the third episode you're going to get some hints of what's to come with Lydia…and she's not OK. … She's part of a big mystery."
So what more can we expect from this season? You may want to be sitting down for the latest from co-star JR Bourne, who plays Argent. "I think [the fans] will be shocked, surprised and maybe even upset," he told TVLine at the MTV Movie Awards. "I think they're going to cry. I think they might maybe pee a bit in their pants out of nervousness. There's going to be a lot of stuff going on." Including, perhaps, a death or two?
True Blood | We're hearing from TVLine that the upcoming fifth season will be the "year of the Pam". So if you're a big fan of her character, you'll want to get very comfortable for the premiere "Turn! Turn! Turn" on June 10. Whether in flashbacks to her time with Eric or her situation in present-day, she'll be taking over the screen for at least the first four episodes.
However, there's also a new, yet somewhat familiar, face coming to the show. Tina Majorino (Veronica Mars and Bones) is set to recur as an important member of the Vampire Authority's support staff beginning in the episode "Whatever I Am, You Made Me" on June 24. And apparently, her first scene will be with a shirtless Eric and shirtless Bill. Take that as you will, guys.
So get excited because we have your promo for the season 5 premiere right here.
Originally posted at TVOvermind.
Tagged as Pretty Little Liars, Teen Wolf, True Blood, TVOvermind.com + Categorized as Television, Spoilers, Television